Find and Download Catalog Products
Find and Download Catalog Products¶
The Catalog Tab¶
After login on the EGP login page you are presented the Catalog tab.
You will see the first subset of entries of the complete EOC Catalog, which you may restrict by applying up to four different filters.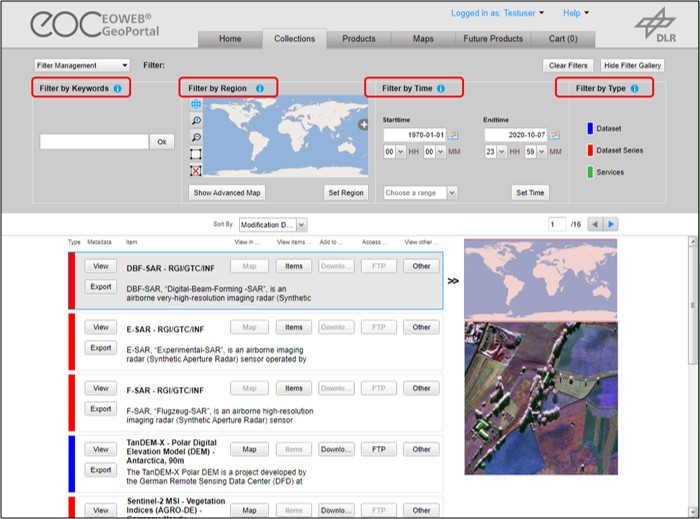 Additional information for each filter is available.
The Catalog Entries List¶
In the Catalog entries list, there is always one entry selected (the one with grey background) with an extent overview map and a preview image attached to the right. Only the preview for the selected item is shown.
For the selected item you may have multiple options of what to do with this item, depending on item type and user permissions. The operations are:
View: A metadata overview.
Export: The complete ISO 19139 XML-encoded INSPIRE/GDI-DE/ISO-19115(2003) compliant metadata.
Map: To display a high resolution image (WMS layer) of the item on the Map tab.
Items: To find and explore single datasets of the selected dataset series.
Download: Opens a page with the download options of this item. Following this track you will finally download georeferenced EO products from a Web Coverage Service (OGC WCS, see http://www.opengeospatial.org/standards/wcs)
FTP: To download data products via ftp.
Other: To access other resources.
The Cart Tab¶
The Cart resides in its own tab so you can easily open it from anywhere in EGP. If you proceed to the Cart you will see a list of order items.
Click on the "X" (close) button to remove an order item from the cart.
You may also click on the "Catalog" tab and add more order items.
If you want to modify an order item, then click on the respective "Specification" button.
When you are finished, click on the "Update Order" button to return to the order item list.
If your order is complete, then "Proceed to checkout".
Next you are asked to accept one or more license agreements. Accept the license agreements by clicking on the check boxes and continue to the "Submit" form.
Here you can check your order, give your order a name, and submit it.
After successful submission, your cart is empty and your order details have been stored by EGP. In addition there is a "Download" button for each product. When you click these, a download request for the specified products is issued on each click. You are requested to open or save the resulting product file for each request.
Clicking the "Ok" button will bring you to the EGP Home tab where you have access to your order details. It is, however, not guaranteed that your download(s) will still be available.